Professional Photo Editing > Free Photoshop Actions > Free HDR Photoshop Action
Free HDR Photoshop Action
Want to add to your photos contrast, brightness and color than before? This Photoshop HDR actions free download set is made exactly for this purpose. One of the most simplest and useful methods of image retouching is applying HDR (High Dynamic Range). You can easily achieve this effect with our professional set of free HDR Photoshop actions. You won't be able to take your eyes off. It will attract you with its uniqueness, strike with its brightness, clarity and color rendition.
HDR Photoshop action free will make your photos realistic. Photoshop HDR action free makes it seem like the image can be touched, as if it is 3D. Such a variety of colors that free HDR action Photoshop will make your photos amazing. This HDR Photoshop action free download set is the most natural way to make your photos more impressive and give them an HDR Effect feel. It will exaggerate details to create powerful and unusual photos. Use this free HDR Photoshop action to enhance the colors, reveal every smallest detail of your photo, and balance light.
---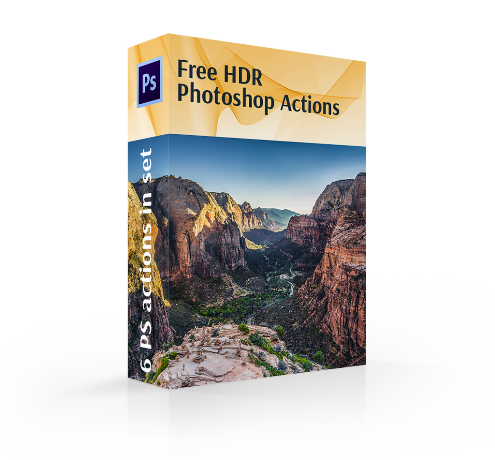 6 Photoshop HDR Actions Free Download Bundle :
---
HDR Photoshop Action Free Download
This Photoshop HDR actions free download set will provide your photos with a HDR look without taking photos with multiple exposures. This set will sharpen your images, get rid of haziness, adjust contrast and make the colors pop. This free HDR Photoshop action will give your photos a professional finish.
Features:
This HDR action Photoshop free download set gives your photos an incredible HDR Effect look.
Easy retouching with a single click.
You don't have to take multiple photos with different exposures.
Photoshop action HDR effect free is built and optimized to streamline your work routine.
It successfully works with Photoshop in any version.
Features of HDR Photoshop Action Free
6 PS actions.
Photoshop HDR actions free download set is completely adjustable. You can manually tweak the settings to fit your individual style.
Works equally well on Mac and PC operating systems.
Works with RAW and JPG photo formats.
Photoshop HDR action free download is compatible and fully optimized for Photoshop CS3-CS6, Creative Cloud, and PSE 11-18.

Free HDR Action Photoshop
---
HDR Action Photoshop #1 "Light"