Professional Photo Editing > Free Lightroom Presets > Free Sunrise Lightroom Presets
Free Sunrise Lightroom Presets
How to edit sunrise photos in Lightroom naturally? To have a good camera and photographic skills are often not enough to convey the beauty and magic of sunrise photos. It is necessary to retouch pictures professionally in Photoshop or Adobe Lightroom. How to make it for reliable price or even free?
This you can do with free sunrise Lightroom presets that provide various techniques from the best split tone colors to making pastel tones. After applying one of our free Lightroom preset sunrise, your photos will acquire soft colors and low contrast. These are the first settings that are necessary for photos of this genre. Other options become possible due to using Lightroom presets for sunrise and sunset. You can also download the sunrise Lightroom preset with the aim of getting a dramatic look. With their application the entire photo retouching process becomes simple and fast.
The presented professional Lightroom presets sunrise suit best for different photos taken outdoors, where natural lightning contributes to their beauty. The same is with landscape and creative images.
The only feature is that the best result can be observed on those pictures that are slightly darker and mute in colors. Taking into account such characteristics, a dramatic look is achieved.
---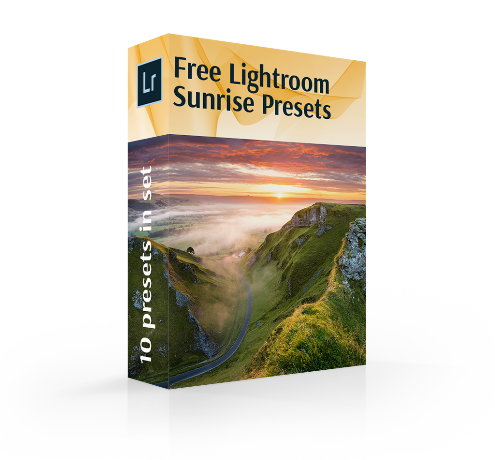 10 Free Lightroom Preset Sunrise Bundle Includes:
---
Lightroom Sunrise Preset Free
All free sunrise Lightroom presets have been carefully created and thoroughly developed with the goal of adding a special sunlit glow, underlining natural beauty and getting a creative edge for pictures. Lightroom presets sunrise have been designed in such a way that any outdoor photography will look professionally improved.
Each Lightroom sunrise preset is hand designed. For many photographers Lightroom presets for sunrise and sunset have become an indispensible part of retouching outdoor images. In some cases they even may substitute the whole process. That makes the work faster and the number of customers bigger.
Free sunrise Lightroom presets enhance landscape photos with a considerable burst of tones paying special attention to sun colors. The common problem of photos of this type is that pictures turn out to be a little white and hazy. This difficulty is also can be solved after applying at least one sunrise Lightroom preset. They flatter photo colors making them natural and attractive. In case you are interested in Lightroom presets for sunrise and sunset, our team presents a number of their best samples.
Free Lightroom Preset Sunrise
10 Lightroom presets created by experience photo retouchers
Compatible with all versions of Adobe Lightroom
Suitable for editing of JPEG and RAW images
Work with both Mac and PC
Fully managed

Free Lightroom Presets Sunrise
---
Adobe Lr Preset Free #1 "Cool Light"