Professional Photo Editing > Free Lightroom Presets > Free Sunrise Lightroom Presets
Free Sunrise Lightroom Presets
Download these Free Sunrise Lightroom presets to edit your photos naturally and fast. It's not enough to have a good camera and professional skills to convey the beauty and magic of this period of the day. Even the most ideal photography requires color correction in Lightroom.
Our Free Sunrise Lightroom Presets provide various techniques from the best split tone colors to making pastel shades. Having applied one of the best Lightroom presets for sunrise photography, you will make the colors softer and lower the contrast. These are the first settings to be adjusted for such kind of photos.
These Lightroom plug-ins offer flexible image editing and fully customizable. Use these tools to make your pictures more dramatic. Download our best Lightroom filters and shorten your time on photo editing twice.
Apply these professional Lightroom presets free to different outdoor photos when there is enough natural light. You will get great results if you apply them to dark images and those that are mute in colors. In such a way, you will achieve a dramatic look.
---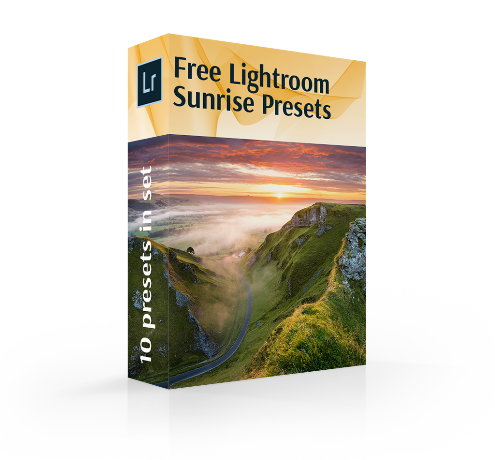 10 Free Lightroom Preset Sunrise Bundle Includes:
---
Lightroom Sunrise Presets Free
Our professional team created these free sunrise Lightroom presets to add a special sunlit glow, underline natural beauty, and get a creative edge in pictures. All Lr plug-ins can turn any outdoor image into a professional one.
Each sunrise Lightroom preset is hand-designed. These Lightroom tools have become a must-have for many photographers and Instagram bloggers. In some cases, they may even substitute the whole image editing process. That makes the work easier and boosts productivity.
Our free sunrise Lightroom presets enhance landscape photos with a considerable burst of tones paying special attention to sun colors. The common problem of sunrise photos is that these pictures are usually a little white and hazy. You may easily fix this by applying one of these free sunset Lightroom presets. They flatter colors making them natural and attractive.
Free Lightroom Preset Sunrise
10 Free Sunrise Lightroom Presets (XMP and LRTEMPLATE files)
Compatible with all Lightroom versions (Lightroom Mobile included)
Suitable for editing JPEG and RAW images
Work with both Mac and PC
Fully customizable

Free Lightroom Presets Sunrise
---
Adobe Lr Preset Free #1 "Cool Light"