Professional Photo Editing > Photo Editing Freebies > Photomatix Presets Free
Photomatix Presets
These free Photomatix presets are developed by FixThePhoto to make your shots clear and saturated. You can use them to get beautiful and bright colors in Photomatix, fix shades and shadows in a quick way.
---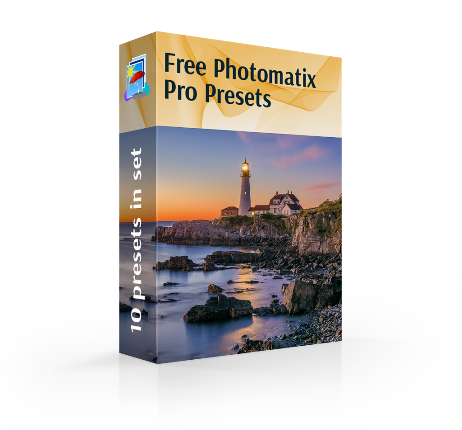 Free Photomatix Presets Bundle:
---
What are Photomatix Presets?
Photomatix presets let you edit shots in one click more effectively than performing all the manipulations separately. You can apply them to your pictures and then adjust what you need manually. Highlight temperature, make color correction or adjust white balance and exposure settings in Photomatix easy and quickly.
Photomatix is an application for editing HDR images. It contains a variety of tools for improving shots, which may be used to eliminate too bright or dark areas of the image while preserving all the details, neutralize noise, adjust saturation, make the details more striking, etc. The program is designed for professional shooters and amateurs with experience.
---
Why do you need free Photomatix Presets?
The popularity of Photomatix presets among photographers has recently increased. Many of them started using Photomatix as an alternative to paid Adobe Lightroom. If you see that a shot is underexposed, then you just select a preset to increase the exposure and apply it to the shot. If you notice that there is a lot of noise in the shot, choose a noise reduction preset — and lower the noise along with regulating all the other parameters in one click. With Photomatix presets, the picture post-production takes less time. Photomatix offers a vast selection of presets for various photography genres. Pick whatever you need – an intense and contrasting black and white effect for a dramatic landscape or a color effect with increased contrast and saturation for portrait editing, etc.

What are the main advantages of Photomatix presets?
• Quick and top-grade results
• The trendiest effects
• Suitable for practically all photo styles
• Compatible with Windows and macOS
• Support for JPEG and RAW formats
• Photoshop CS3-CS6, PSE11-18 and Creative Cloud


10 FREE Photomatix Presets
These really cool presets will make your shots look amazing and give you a reputation of a picture editing expert in Photomatix.
---
Photomatix Preset #1 "Beautiful"
This preset adds a stunning vintage effect to portraiture. The preset is great for adding softness to the skin and slightly raising the brightness of natural shades.
The shot will acquire an effect of scattered light with increased contrast. Besides, the preset boosts warmth, muting it a bit.
Unlike similar presets with a faded effect, it helps get a sharp and clear portrait, with prominent details. In case you are after a magnificent retro look with natural colors, this Photomatix preset is an ideal option.