Professional Photo Editing > Lightroom Presets > Snow Lightroom Presets
Snow Lightroom Presets
Let it snow Lightroom presets can add some magic to your winter photographs. Winter's come! Looking for unusual and beautiful effects and filters for your images? The following package of 42 snow Lightroom presets will completely transform your winter photography in 2018, and make it shine. Lightroom presets snow will enable you to add realistic-looking snowflakes and cold coloring. Each snow Lightroom preset corrects tones and tints to add winter atmosphere. Easy and fast installation is guaranteed. Save your time with these LR presets.
Snow Lr Presets Collection:
Adobe Lightroom 4-6, CC
Unlimited Number of Projects
Windows and Mac
RAW and JPEG
10 Winter Presets
10 Light Effect Presets
20 Snow Presets for Horizontal&Vertical Photos
Comercial Use40
Size215 Kb
Downloads125
Rank
With the help of our snow presets for Lightroom you will easily overcome the camera and light difficulties appeared during any winter photoshoot. Flat and grey colors will be turned into bright and beautiful ones, a white balance will be corrected, snow effects will be applied. Check the examples and download Lightroom snow presets you like the most.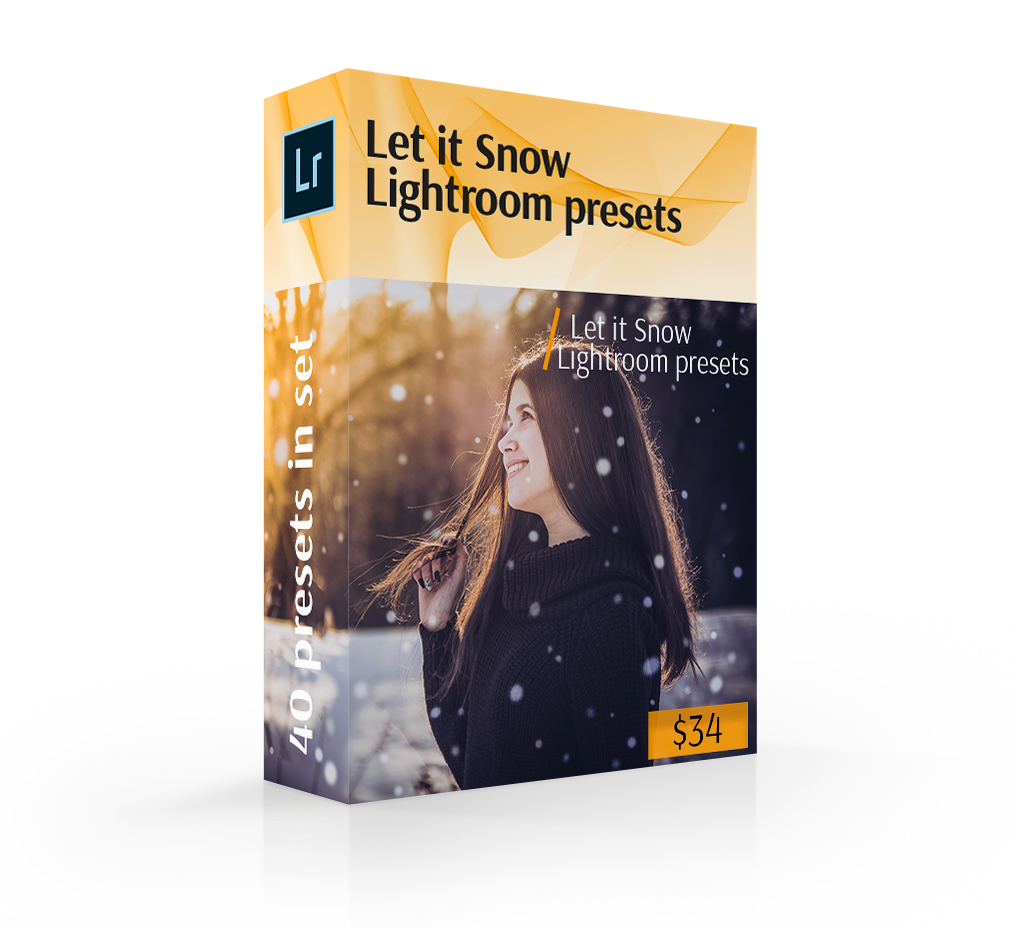 Snow presets for Lightroom bundle – Main features:
The following 42 Lightroom snow presets work in Adobe Lightroom and can't be used in Photoshop software. They work with all the latest Lightroom versions (4,5,6) fast and easy.
Photos applied to these Lightroom presets should have Tiff, Adobe Raw and JPEG file formats. These LR presets can be used on any of your winter photos taken in natural light.
This winter package has a written guide to help you easily install all LR presets in photo steps.
All snow presets for Lightroom from this collection can be downloaded after a payment.
Contact us if you have any further questions concerning the usage and installation of the Lightroom presets snow. Our team is ready to help you 24/7.
Why should you download these Snow Lightroom presets?
- Every snow Lightroom preset from this pack will make your winter photographs unique with the help of a variety of effects:
Cold, bright, and high contrast with red highlights and blue shadows.
Flattening, cool blue/gray overlay, washed out shadows, and muted tones;
Brightening, slightly toned down saturation, and subtle blue/red split toning;
Minor color revisions, muted greens, cooling, and general softening of colors;
Professional correction of white balance.
- Every snow preset for Lightroom is custom-designed by the photographers who are professionals and skilled designers. Our team works in digital photography industry since 2013 and has good taste in natural and beautiful photo retouching.
- Enhance your photography style, build a popular brand for your business. Raise the number of your potential customers with our LR presets.
- We applied every Lightroom preset snow on a number of winter photos to make sure that they are versatile. Our retouchers always use LR presets in our workflow to save time, increase efficiency, save a photographic style, and give the pictures an original look.
- Improve your photography without making difficult photo retouching adjustments in Adobe Photoshop. Snow presets Lightroom are sure to modify all your images professionally, and help you achieve the level of photography you can be proud of. Make some clicks and get a professional result. Download them here.
---
Customers who buy this item also buy: