Professional Photo Editing > Free Photoshop Actions > Free Photoshop Color Actions
Free Photoshop Color Actions
Free Photoshop color actions provide vivid, vibrant and bright color effect to your photography. Beautiful and deep images can become a calling card for you and a source of inspiration for others. Creating truly beautiful images is not an easy task and color correction is a must have for any respectful photographer. If you are not good at changing tones, whites, darks and temperature settings in Adobe Lightroom, do not worry we will show you how to achieve beautiful, deep, rich colors in your images with just one step – downloading free Photoshop color correction actions. Enjoy results!
Make your images unusual, stylish and creative with these free Photoshop color actions. We offer you 6 actions for making the photo brighter, more contrast, add warm and cool shades, and also change the perception of your images. This type of image retouching freebies is well suited to emphasize the individual style of a photographer. If you think that the images are missing something, just try this bundle. The result will surpass all of your expectations.
---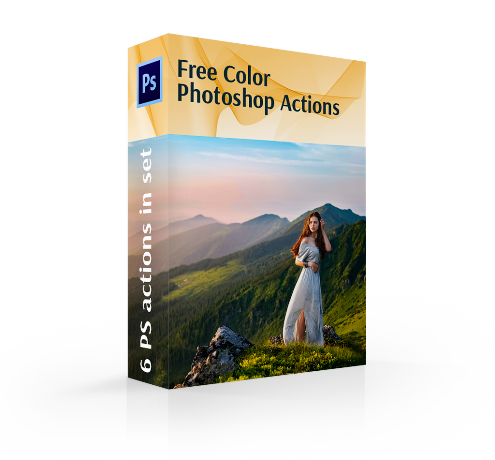 6 Free Photoshop Actions Color Pop :
---
Free Color Pop Photoshop Actions
We created this collection of 6 free Photoshop color actions to retouch your wedding, family, portrait, fashion and children's images easier and faster twice. Our actions are well suited not only for beginners, but also for professionals who don't have enough time to retouch the pictures' colors and white balance. The maximum result with minimal effort - this is how the professionals responded about our free color actions for Photoshop. Improved light and stunning color correction will allow you to transform your photo the way you have never dreamed. Just one action and everything is ready.
Free Color Actions for Photoshop
6 different free Photoshop color actions.
Have the atn. extension, which is standard.
To achieve greater uniqueness in your style, each PS action can be customized to your style.
Work not only with CS3-CS6 and PSE 11-18, but also with the Creative Cloud app.
Are supported by Mac & Windows.
For RAW or JPEG photos.

Free Photoshop Color Actions
---
Color Action Photoshop #1 "Aqua"