Professional Photo Editing > Free Lightroom Presets > Free Product Lightroom Presets
Free Product Lightroom Presets
Free Product Lightroom presets will help you enhance your ecommerce photography, make them bright, clear and look professional. Subject photography is a special kind of digital photography that is used for online shops and catalogues.
To sell the product, you need to convince the consumer that the product looks beautiful and must be bought. All free product photography Lightroom presets from this bundle will improve your images quality fast and easy. With one click, you can adjust the WB, thereby brightening and clearing the photo from unnecessary shadows, increasing brightness, saturation, sharpness, and giving the pictures an HDR effect that helps to focus the viewer's attention on the smallest details of objects.
---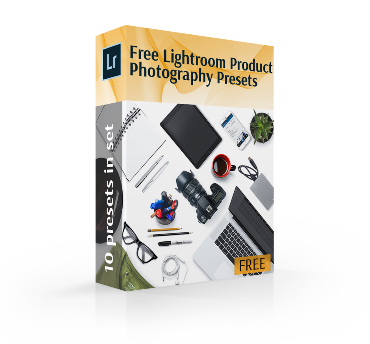 Lightroom Presets Free Product Bundle
:
---
Free Lightroom Presets for Product Photography
We offer you easy-to-manage free product photo Lightroom presets, so you can very quickly correct the photo's color weak points and advertise a certain product or sell it faster.
Before using these Lightroom product photography presets free, which carry out a whole series of manipulations with color, saturation, contrast and other indicators, read a couple of recommendations:
Think about the stylistics of photos before work. In our set of professional Lightroom presets you will definitely find a preset that will highlight your pictures among a variety of other projects.
If you are retouching a whole photo session, download all free Lightroom presets for product photography and test them. A single style creates an impression and a certain atmosphere around the product.
Think about what photos should be in mood, tonality, and character. Try different free Lightroom presets product photography, combine them and stick to this recipe for all your photoshoot.
Form your own unique style using free product Lightroom presets, which will match the direction of your business and brand.
Do not pursue the popular filters for Instagram. Stay true to your style, this will show your professionalism and fidelity to the business idea.
---
Best Free Product Photography Presets Lightroom
---
LR Preset #1 "Clean White"
This is a classic variant of the product photography Lightroom presets free, which can serve as a base or used alone. White becomes pure white, other colors become purer and brighter. This plugin serves as a tool to clear up a dull and dirty cover from the image so that it shows its true colors and conveys a clear sense of the objects.

---
LR Preset #2 "Brightening"
This kind of free Lightroom presets product photography cleans up all the details on objects, makes the white background cleaner and brighter. The colors of the objects are not distorted but are made brighter and a bit more saturated, as if a bright stream of light is directed at each of the objects to illuminate all its sides and give the viewer a certain idea.

LR Preset #3 "Colorful"
In case you do not need a picture with crystal clear colors and a whitewashed background, this product photography Lightroom preset free is your way out. All the parts and objects will become brighter, clearer, and the colors will be deeper and more saturated.
---
LR Preset #4 "Clarity"
To make the photo brighter, the white color cleaner, and the individual parts of the objects more glossy, resort to this kind of free product photography Lightroom presets. Its parameters are struggling with blurring in the frame and the presence of a gray film effect on objects and the background.

---
LR Preset #5 "Sharpening"
Any product photo on the website or the catalog can be made wider by simple settings of the best free product photography presets Lightroom. This effect will add some roughness, which will come along with the saturation of colors and the clearing of the frame from the faded film.

LR Preset #6 "Contrast"
How to make a photo more selling, so that it would catch your customers' eye among other photos with products on a white background? It's very simple, you need to perform a correction of colors, advance the contrast and clarity. Our Lightroom presets for professional photographers will handle with this at the moment.
---

LR Preset #7 "HDR"
If your image is pale and devoid of zest, the HDR effect will easily overcome this problem. Colors do not distort but only become deeper and clearer. The captured particularities will acquire a volume and rich clarity that will make the audience pay attention to the photograph.
---
LR Preset #8 "Reduce Blue Cast"
Often photos taken on a white background in daylight or studio light, are obtained in blue tones, which distorts the real colors of objects. Therefore, these Lightroom presets free product are created precisely for such situations, in order to bring warmer and more natural shades into the subject photograph.
LR Preset #9 "Tonning"
Gain your time and create on your subject photos an unobtrusive style, due to toning. The Lightroom product photography presets save the image from the presence of warm and yellow hues, so the picture visually seems more professional.
---
LR Preset #10 "Reduce Noise"
Imagine that a bright white light beam falls on your image, which shapes the image more professional, by changing the brightness and adding a cool shade. Manually work takes long, so use free Lightroom presets for product photography.
---
We always do our best that our tools for each designer and photo editor turn the most universal and the best free product photography presets Lightroom. That's why thousands of image editors replenish their tools for fast and convenient image transformation with our free Lightroom presets product photography. Do not waste time and make clear ecommerce photo editing!
---
Helpful Video Guide about Lightroom Presets
---
More Free Lightroom Presets by FixThePhoto
Do you want more Free Lightroom Presets? Check out what we have.
---
---
---