Professional Photo Editing > Free Lightroom Presets > Free Matte Lightroom Presets
Matte Lightroom Presets
This bundle of Free Matte Lightroom presets was designed to give your portrait, wedding, street, travel, and newborn photographs a trendy Matte effect in several clicks. These Matte presets for Lightroom will make your photos gentle and more atmospheric having washed out the colors. Make your photos look as if they have been printed on matte paper.
Our retouchers used all photo editing techniques to create these Lightroom Matte presets. You may use this bundle according to your artistic vision to satisfy your clients. These Lr plug-ins affect colors of your photos in such a way that they become slightly washed out, resembling the so-called "fade Lightroom effect".
This matte effect is very popular among fashion photographers and Instagram bloggers, so don't miss a chance to download this bundle of 10 Free Matte Lightroom presets and make your images pop. There is no restriction on photo types, be it outdoor or studio pictures, as Matte presets add something special to each shot. But don't expect to get the same effect as on the examples above, if you apply the filter to absolutely different images. Treat this collection as another chance to reveal your creative potential, go on impressing your clients with unique results and broaden your photographic skills.
---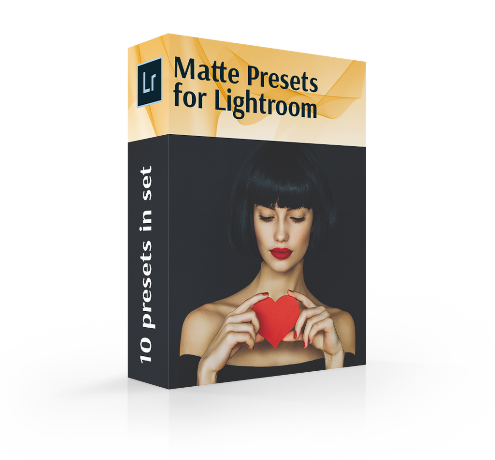 10 Free Matte Lightroom Presets Bundle Includes:
---
Free Matte Presets for Lightroom
Do you remember the times, when photographers spend many tiresome hours trying to create a matte look in Lightroom? Now you can simply choose the suitable matte filter and enjoy the transformation of your pictures in several seconds.
Our bundle of free Lightroom Matte presets contains 10 universal and customizable plug-ins, which are aimed at turning the image editing process into a pleasant activity. You don't need to drag different sliders dozens of times until you get a desirable picture. Nowadays, the image editing takes several seconds. This is especially helpful for beginning photographers, who can't boast of deep knowledge of LR software.
Characteristic of Matte Lightroom Presets Free
10 Matte Lightroom Presets
100% compatibility with all LR versions
Helpful tools to enhance JPEG and RAW files
New XMP format
Lag-free operation on PC and Mac
Fully customizable
You may experiment with presets in Lightroom Mobile app
Top 10: Free Lightroom Presets Matte
---
Free Adobe Lightroom Preset #1 "Contrast Warm"