Professional Photo Editing > Free Lightroom Presets > Free Vintage Lightroom Presets
Free Lightroom Presets Vintage
Have you ever heard about retro presets? Vintage photography is always beautiful, gentle, sincere and touching. It usually brings something pleasant like warm memories and already forgotten feelings.
You, as a professional photographer, have probably thought about ways how to create interesting vintage effects and how to choose the most informative and logically-structured vintage Lightroom tutorial, that will show how to make pictures visibly older and how to get unusual color transformations that are inherent in vintage photography. It is not as difficult as many modern photographers tend to think about every vintage preset. For proving this we have created a complete set of free vintage Lightroom presets.
Our Lightroom vintage presets are a unique collection of ready-made retouching settings that will enhance every photo making it "retro". All free Lightroom presets vintage have a sense of sophistication and a sense of style, which make them popular among contemporary retouchers. With the emergence and quick development of Lightroom retro presets, retouching work with "vintage" direction became easier and time-saving. Now that is possible, because retro Lightroom presets open undiscovered photo retouching opportunities and as a result improved pictures are more interesting both to ordinary viewers and photographers. All vintage presets Lightroom free are quite quick and easy in application, as usually several clicks are enough to achieve the expected results.
---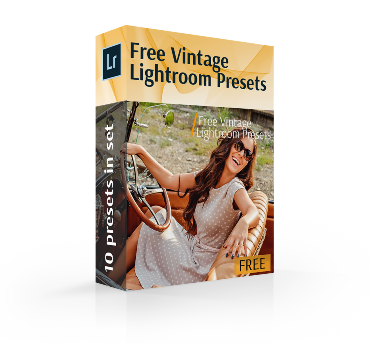 10 Free Lightroom Presets Vintage Bundle Includes:
---
Principles of Vintage Presets Lightroom Free
All retro Lightroom presets have been developed taking into account the following principles:
In the common vintage style that is achieved with the help of retro presets, the emphasis is always on color and saturation. All old pictures are not too bright and the saturation is also not high. This should be taken into account when creating vintage photos and choosing a preset vintage Lightroom.
Reducing the contrast can make the picture more flat. Our retro presets Lightroom will allow you to change the brightness and contrast of the picture conveniently and efficiently.
Vintage pictures have a low value of color saturation. This is due to the imperfection of old color rendering technologies, choosing wrong Lightroom preset vintage and the process of image fading over years. Working with brightness and contrast, with the help of presented retro presets Lightroom, you can reduce photo saturation and hue.
It is important that the vintage style of an image is reflected not only in photo processing, but also in the picture content. Modern buildings, equipment and gargets will not look retro, no matter how you treat them with free presets for Lightroom 6, 5 or 4. A vintage view can be given to pictures of nature, old buildings or cars, especially with editing car photos in Photoshop or fade effect Lightroom. Portrait shots can also be made vintage, if the appearance of the model corresponds to the times that you want to convey in your photo work and you have chosen a right vintage preset.
Modern pictures can also be done in vintage style. Studio photos are made using professional lighting and equipment. All these components with modern scenery look interesting in vintage image post processing and after applying professional Lightroom presets. They convey a completely different mood, which is not the same as in really old photographs, but in this fact photographers find their peculiar features and continue using free Lightroom brushes and presets.
---
Vintage Presets for Lightroom Free
---
LR preset #1 "Soft Light"
The first free vintage Lightroom preset brightens photography and makes colors more intense. When photographers want to make an old picture brighter or to highlight objects in the foreground Lightroom vintage presets of this kind are chosen. They are great for improving retro portrait photos and landscape pictures.

---
LR preset #2 "Cold Contrast"
Cold contrast retro presets are used by contemporary retouchers to add photo saturation. They are also chosen if highlighting the center and removing extra shadows are photographer`s goal. Such vintage presets Lightroom free are suitable for retro portraits, as they can hide some skin imperfections. They also look professionally on pictures taken outdoors due to the possibility of giving focus to details.
---
LR preset #3 "Soft Sepia"
If a photographer wonders how to use Lightroom presets, he/she should know that such retro Lightroom presets are among leaders. Such vintage presets for Lightroom 5 free soften a picture tone, add yellow coloring, and because of the sepia effect make a photo slightly faded. Such retro presets Lightroom come into application when photographers want to make a retrospective with slightly darkened edges. They look beneficial on vintage thematic staging photos.
---
LR preset #4 "HDR Soft"
This preset Lightroom vintage is chosen the most frequently. That is a universal vintage preset that makes photo coloring brighter and helps to achieve the effect of liveliness. Photographers work with such Lightroom vintage presets to get an old school image. Such effect is suitable for all kinds of retouching starting from cinematic look Lightroom to street style photo improving.

---
LR preset #5 "Warm Color"
That is a fairly intense Lightroom preset vintage, which makes every old picture much brighter and gives warm colors to photography. It can be used for photos both after indoor and outdoor shooting. This Lightroom preset vintage does not work well with portraits close-up, but it is effective for enhancing fashionable pictures.
---
LR preset #6 "Green Shadows"
This sample of vintage presets for Lightroom 5 free suits for landscape photography. It softens colors and lightens the photo center. All these enable to make photos of nature more intense and deeper. It is advisable to experiment with other types of photos.

---
LR preset #7 "Medium"
The next free Lightroom presets vintage professionally add a warm glow. The sphere of their application is wide due to their universality. These Lightroom retro presets are selected for retouching car photos and for enhancing natural or urban landscapes. They are also suitable for post processing portraits and fashion photography.
---
LR preset #8 "Cold Cross"
The following preset Lightroom vintage emphasizes photo red shades, making a picture brighter and slightly faded. In the late 1970s all photos looked approximately like this. This free vintage Lightroom preset is used for instant picture aging. It looks professionally on pictures taken on a beach, where there is much sun shine.

---
LR preset #9 "Matte"
Matte preset vintage Lightroom slightly lightens a photo and flushes colors. Photographers frequently use such retro presets Lightroom if they shoot portraits or photos on a beach. They also can be used with ever type of photos, because they give a nostalgic look to improved pictures.
---
LR preset #10 "Pink Light"
The last free vintage Lightroom presets highlight the center of a photo. For this option they suit for portraits and for pictures that contain much light.
---
Every preset Lightroom vintage has been created and developed by experts in modern photo retouching, so that they reflect all needs of contemporary photographers. There are no limits concerning the sphere of retro presets application, but remember that result depends on the initial photo characteristics.
---
Helpful Video Guide about Lightroom Presets
---
More Free Lightroom Presets by FixThePhoto
Do you want more Free Lightroom Presets? Check out what we have.
---
---
---