Professional Photo Editing > Free Lightroom Presets > Cinematic Lightroom Presets
Cinematic Lightroom Presets
Download these 10 Free Cinematic Lightroom presets to add those color tones as we see in the movies. This set was specifically designed for professional and beginner photographers, who want to change the tone and mood of a picture, giving it a cinematic vibe. They are easy to use and it takes several seconds to achieve the desired look. Check these Lightroom Cinematic presets and make your photos (portrait, street, cityscape, images from trips, shots for a blog, etc.) eye-catching and pop.
These Cinematic Lightroom presets are easy to download and use. They suit photos with different lighting, color gamut, taken by amateurs and pros, outside or in the studio. They are universal and have been tested on many images. If needed, you can configure some settings and alter a final result.
---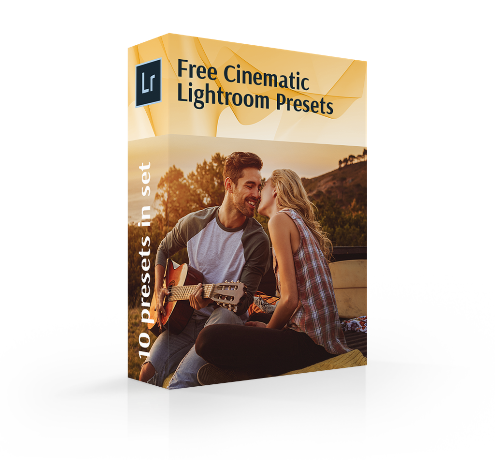 Lightroom Cinematic Presets Includes:
---
Free Cinematic Lightroom Presets
Do you want to alter the coloring of your images and give them a cinematic look? Dream of creating an amazing result in a few clicks? Then you need FixThePhoto's Cinematic Lightroom Presets Free Collection. If you want to have even more top-quality image editing tools in your toolkit, visit our website and download paid Cinematic presets.
This bundle is designed for those shooters, who want to turn their images into Hollywood-movie style shots. Every Lightroom Cinematic preset is a powerful Photoshop filter that can give pictures intense greenish shade and keep blacks unsaturated. The skin tone acquires a pleasant orange look.
As the basis, our Lightroom experts used classic Cinematic Lightroom presets, but gave users more control over split toning and channel saturation, which positively affects the entire image editing process. Now you can use these Lightroom plug-ins for a great variety of shots and get more accurate results.
Cinematic Lightroom Presets Free
10 Free Cinematic Lightroom Presets
Available in .xmp and .lrtemplate formats
For accurate work in any Lr version
To enhance RAW and JPEG pictures
Mac and Windows compatible
Easily customizable

Best Cinematic Lightroom Presets
---
Cinematic Lightroom Preset #1 "Pearl"