Retouching For Nude Photographers – Why Not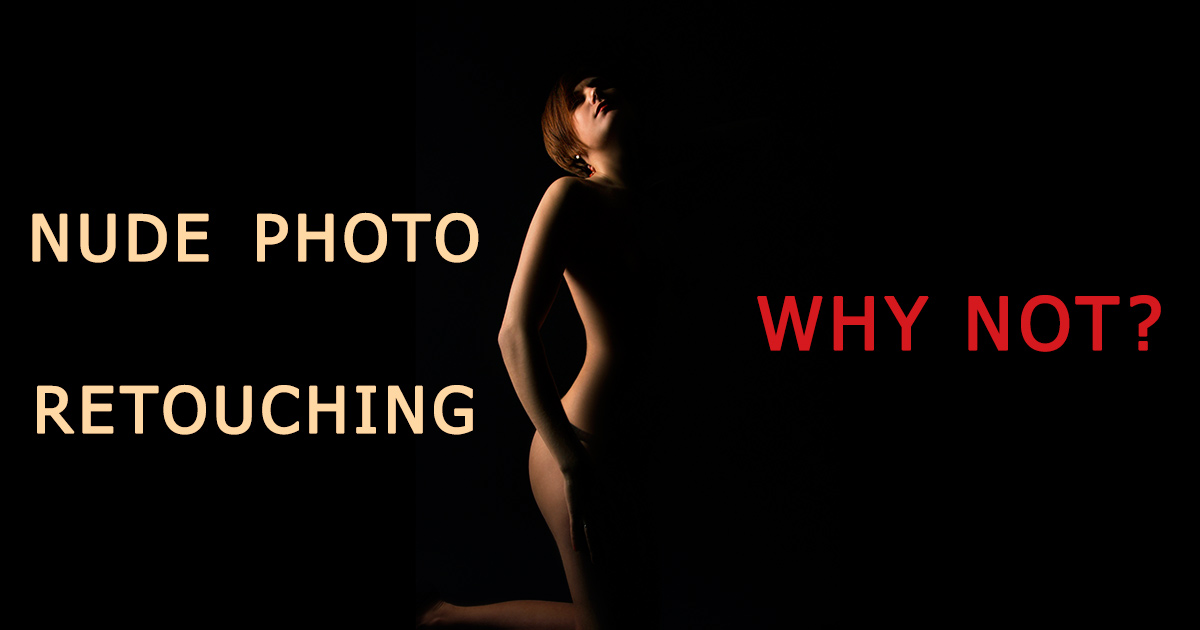 Our company is a big team of retouchers and we are often asked whether we do post production photo editing for nude photographs or not. The answer is YES. In this article we are going to tell you what a nude photo is and how we work with it.
Warning! Let's start this blog post with a warning. This article is about Nude Photography and does cover a topic that some may find offensive. If you think you'll be offended by this post, we do invite you to skip this post. This is a topic many of our readers and clients are interested in so we feel it is relevant, but do understand that it is not everyone's cup of tea.
Kinds of nude photography
Being professional retouchers, we have learned a lot about which kinds of nude photography a standard lab will print, and which type requires a more private developer. Nude photography is a general term that represents pictures of a nude or semi-nude person, or an image suggestive of nudity. It can be done in both color and black and white. There is a preference for shooting in black and white over color. Usually dramatic lighting is used to create artistic nude photography.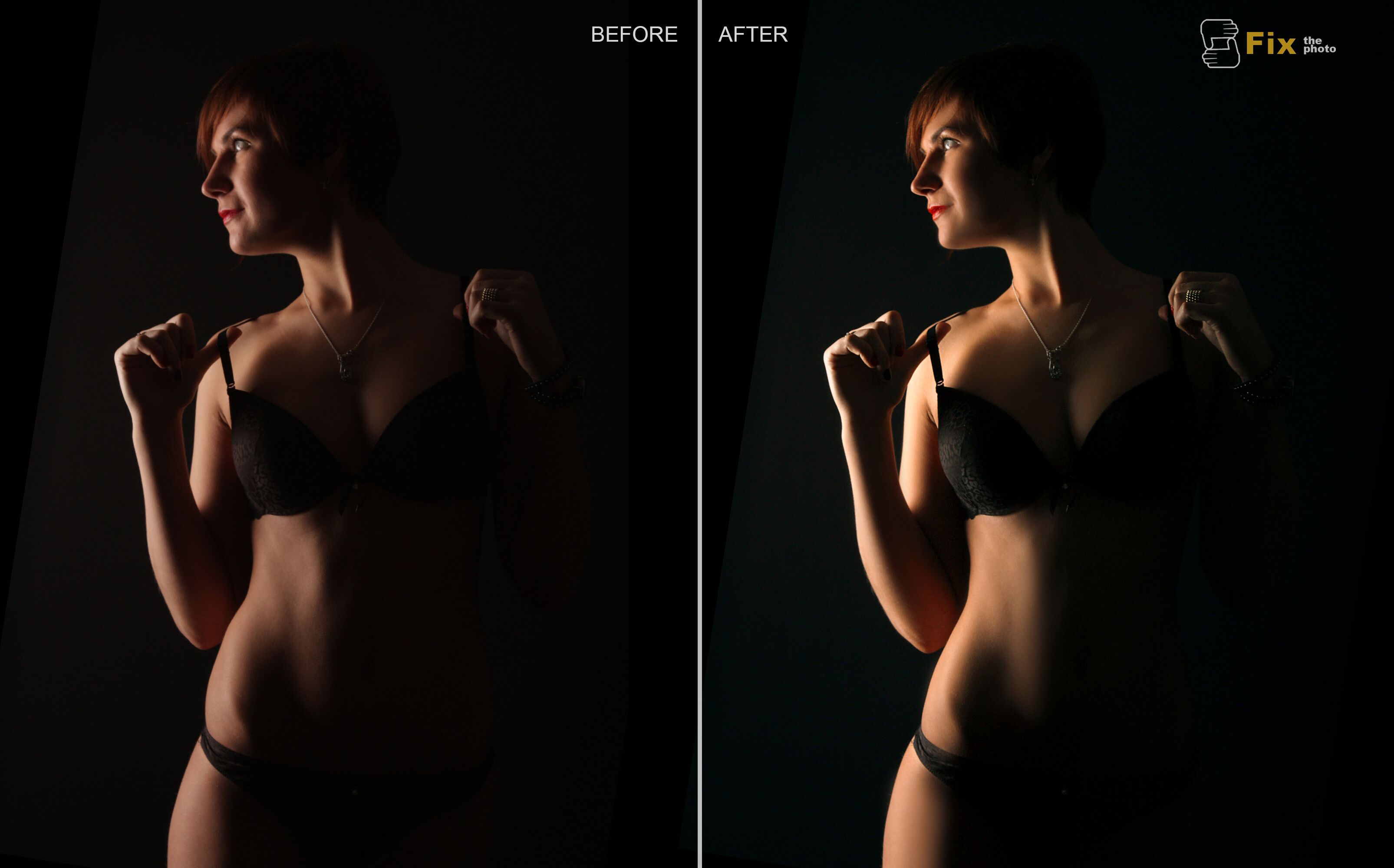 Boudoir photography is becoming popular today. Brides are looking for something special and sexy and give their husbands these photos as a wedding gift so wedding photo retouching becomes nude photo retouching. But ladies in their 30s, 40s and even 50s are wanting boudoir photo shoots even more. When we asked them about their purpose, generally, it is because they feel young at heart and want to capture themselves in some beautiful sensual images. Boudoir photography is usually more suggestive rather than explicit in its approach to nudity and sexuality. Glamour photography sets a stress on the model's natural features creating soft, alluring, glamorous and sexy images.
Erotic photography has only one purpose, to bring on an erotic response. This is one area of photography that cannot be printed. It belongs to things not being shown on public display. Some popular magazines see a borderline between artistic, and pornographic. You know "Playboy," which is a well-written magazine with nude illustrations, and "Sports Illustrated Swimsuit editions" with partial nudity, and body painting. Some labs will print these types, and some won't; it's their choice.
Some Important Nude Photography Tips
Lighting, posing and composition are the key things, which is just about everything in this sphere. Sometimes it is a real challenge to find a willing model to pose for your fine art nude photography. Don't be upset, there are a great variety groups and societies in the social web where you can find them.
You don't have to rent a studio to create successful nude shots, but you do need enough space to set up a couple of lights and a backdrop and be able to get far enough back to shoot a full-length image without a super wide-angle zoom. Choose an appropriate digital camera and lens. Don't forget to create a good environment to work in.
Your model will be naked, so ensure the space is warm and comfortable. Before shooting discuss ideas and break the ice between you. Music is great for creating an ambience. One of the biggest elements to remain successful at shooting nudes, is a trust between you and the models, and the second most important thing is to always keep your model safe and comfortable.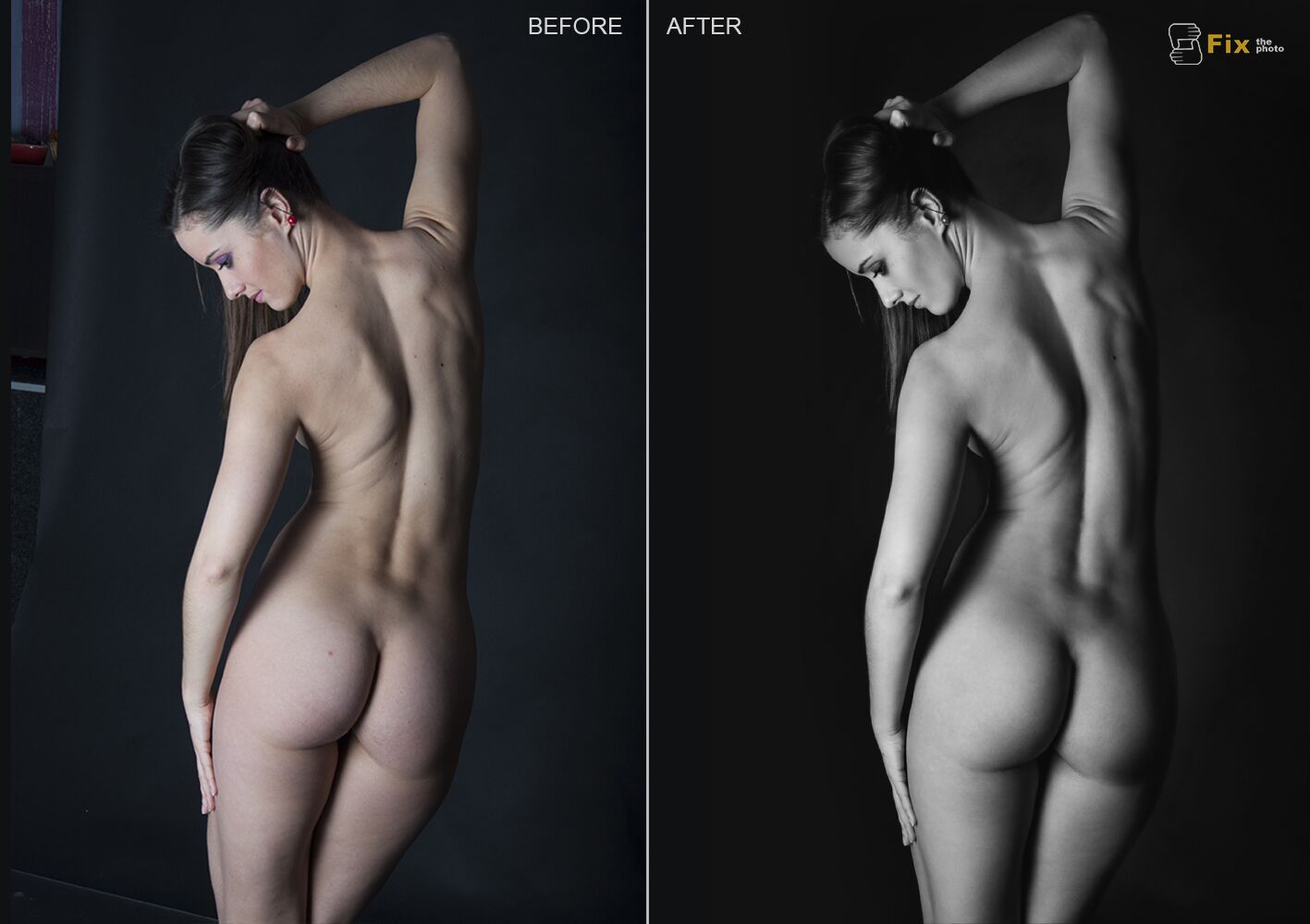 Without a doubt, it all starts with proper lighting. If you use the studio lighting at the first time, it will be better to start with the more basic setup – one light and a reflector can create miracles. Lighting is a bit harder (hiding the light sources can be difficult), but almost all of the best nude images by well-known artists have been produced using a mirror. Shooting from a distance is a must with nude shots. The way the 80mm+ lenses "flatten" the subject really help with these types of shots. The further away you can get and zoom in, the more natural the model looks in the final photo. Keep your poses easy.

The way you should retouch the nude photos
Most probably, almost all nude photos don't require a great deal of retouching. You choose which models you work with, so it means you will take pictures of women who are already very beautiful and a good fit for this style of photo art you want to take. In other words, there are a few basic retouching tasks that can be done to make many images look better.
Color correction
Photo color correction is one of the most important features in retouching nude pictures. Generally, this is the first task you should do when embarking on the retouching process. If your photos are too red — it's common with photos taken in low light — you can just select the Highlights radio button and then move the sliders towards cyan and blue a bit until it looks a bit more balanced.
Skin smoothening
At this stage of editing you should remove all blemishes that may be present on the model's skin. Don't follow the quick skin retouching. Pay attention to the details, especially to such imperfections as pimples and small scars. They may not be visible to you while you're shooting, however, viewing the images during editing, they may become obvious.
Stray hairs
Looking closer at the picture, you may have found a few stray hairs. Retouching stray hairs can be done easily. Try not to make your model's hair look like a helmet by removing every strand of hair. The post about 5 Simple Tips How to Improve Your Photos will help you judge what correction your photo needs and how not to go too far.
Non-disclosure agreement
Data security is a priority for all photographers, especially for nude ones. Both models and their photographers are afraid of their art being seen in public without permission. Fix The Photo respects your privacy and we handle your photos with the utmost care and respect. Your privacy is guaranteed.
Apart from the retoucher and account manager none else will see your images. Your photos will not be posted anywhere without your express written consent. We are very honored and appreciative of our many clients who have given us permission to be featured on our website and in our portfolio. We can sign a non-disclosure agreement to protect your photos' privacy. In addition to security of your work, we have very affordable retouching prices to bring you the ability to leave all of your editing work with us and spend more time on shooting or doing other things you like.
Do you like the article? Please feel free to share it via your social accounts.
---
Pay attention this photography blog which does not require credit for the pictures and photo post production examples listed here . All photographs used in the article are only copyright to their respectful creators . These shots posted as a big admiration of portfolio and photo retouching talent the experienced rt masters have . If you found the photo on this post that is yours and do not want to be promoted on our website , please do not hesitate to write us via online chat on your right and it will be quickly deleted .
---
Rate the article!
The article's rating:
---
You comments or questions are welcome; please share your opinion on the topic.
Use Facebook:
Use Disqus: